It's be fun learning how many here are and/or have been involved in photography. It, as much as music and writing ,have been central to my life,
That so many of us here have discovered photography's joys in a sense is not surprising. For both of these 'arts' -- photo imaging and guitar playing -- share the mixed joys of creating and playing with "instruments."
I"ve shared some of my own imaging, and had others join in adding theirs, on several threads. But thought that a thread devoted just to this might be nice. Along with the invitation for all to share their own works, be they casual or more serious.
When I retired from a career in imaging -- mostly for science and medicine -- I gave myself the goal and exercise of creating at least one "shareable" image each day. This to discipline myself and to provide a 'stage' for my eye -- to keep it alert to visual things and events -- even just the ever ongoing passage of light and time.
I've done this pretty consistently now for several years and have posted those images in various places.
For a time I was a 'hired on' content provider for PJ Media. The editor there used to enjoy posting my work sans article. Just images for images sake.
When he and I both left working for PJM I started posting daily on Facebook -- something that I continue to do under the heading "My Image for the Day."
I thought I might occasionally share such here as well. As today.
My image for the day today was entitled "Across the Way." It was taken from the location of my mailbox, looking northeast across the road to a neighbor's property.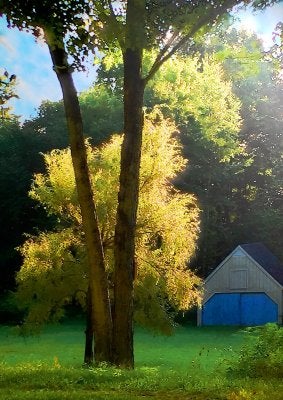 -don